We got this wonderful shout out to Mrs. Schumacher and wanted to share: "Carthage Primary is blessed to have Mrs. Schumacher running that campus. She is a wonderful principal. She has always been available when I have a concern and is genuinely interested in what I have to say. She loves those students in her care and it shows. I can't be there to love on and protect my boys 24/7, but it sure is easier to leave them for 8½ hours a day in her capable care."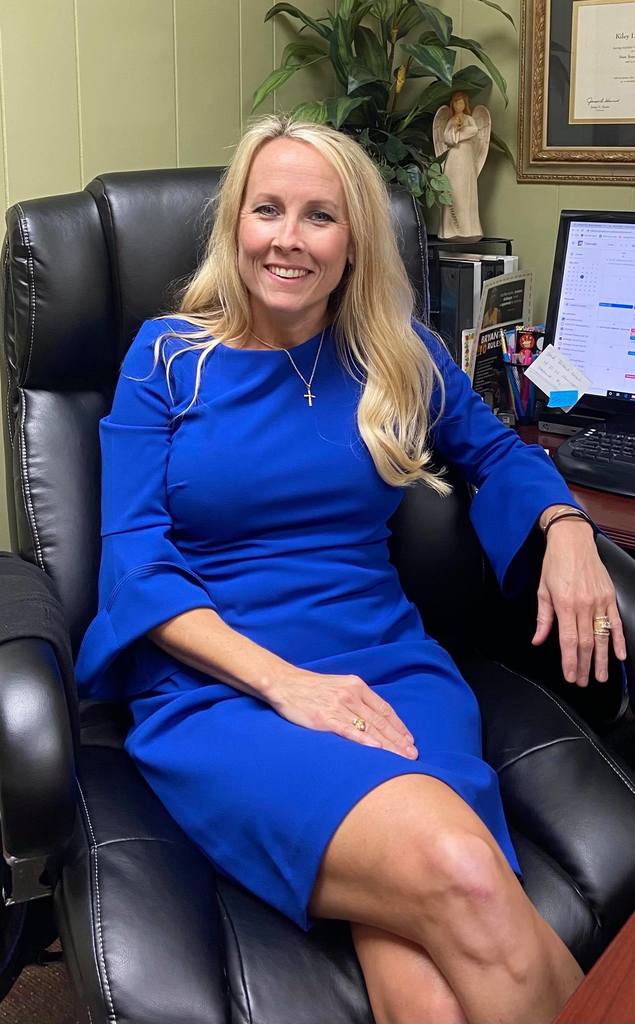 Join the CISD family! We are currently taking applications for a CJHS Math Teacher.

Pure GR8NESS! In celebration of Carthage High School's EIGHTH Football State Championship, CISD is providing these memorable posters to the public. They are now available in the Admin Office.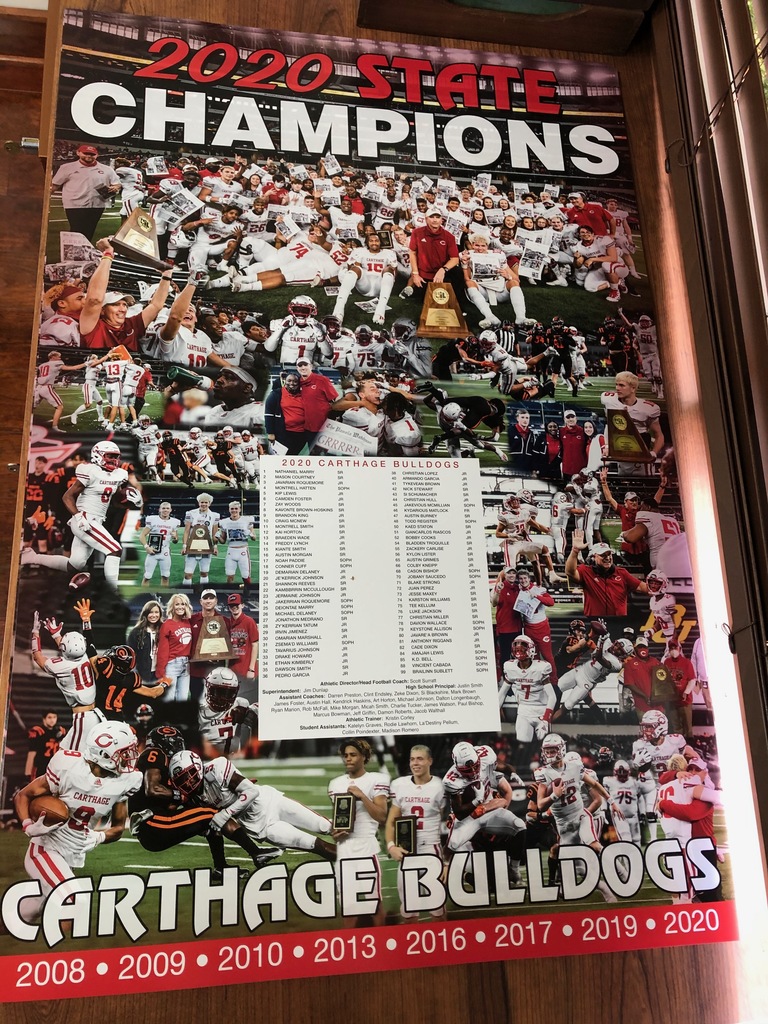 Next week is Teacher Appreciation week and we want to share stories about all of our excellent educators, past and present! If you have a story about an outstanding CISD Teacher, please visit the link below to share with us!
https://forms.gle/KyvwuHY5QW9DHocL8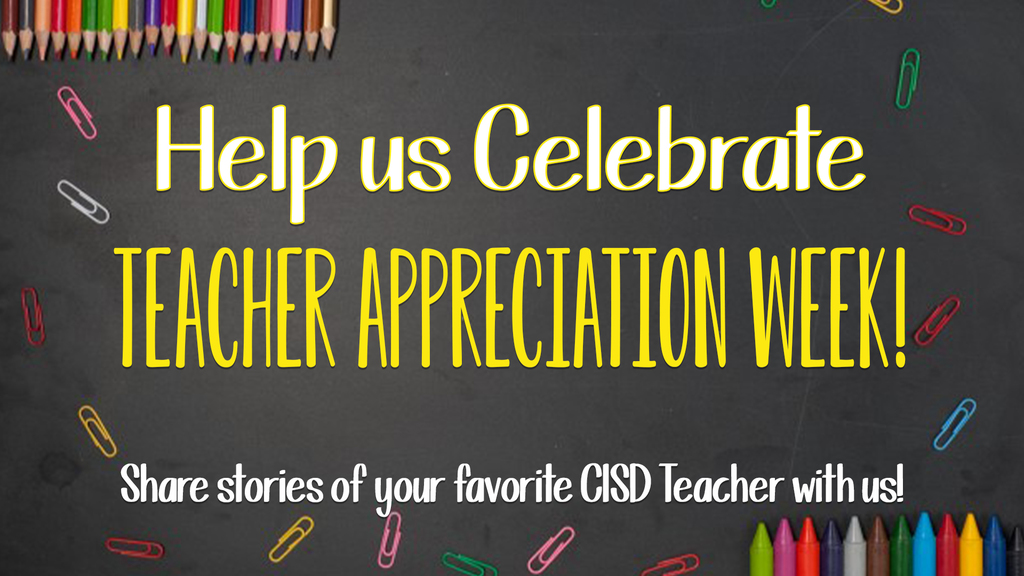 Here's a smile to help you have a happy Tuesday!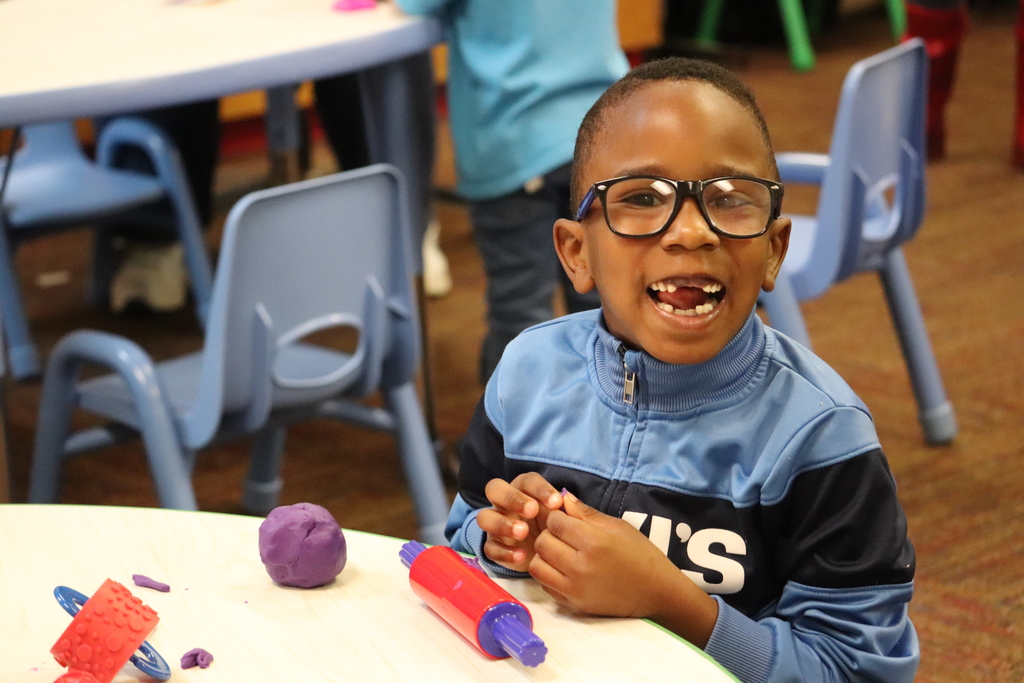 Please see below regarding attendance for February 16th-19th. Thank you to our school board for their swift action and approving filing for this waiver with the state.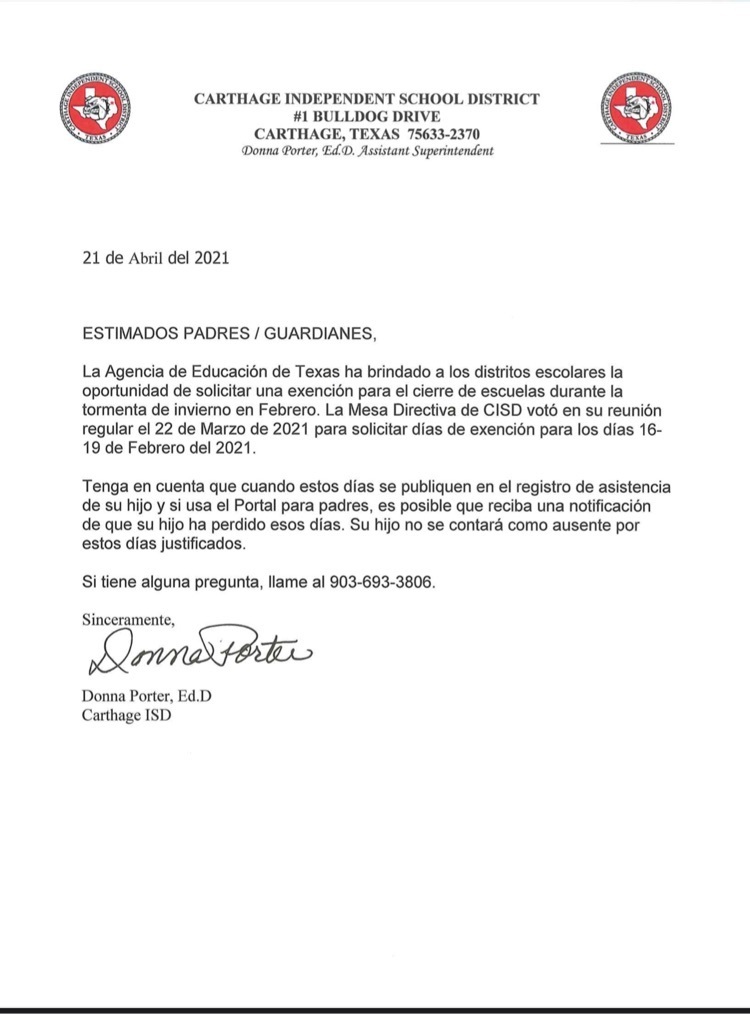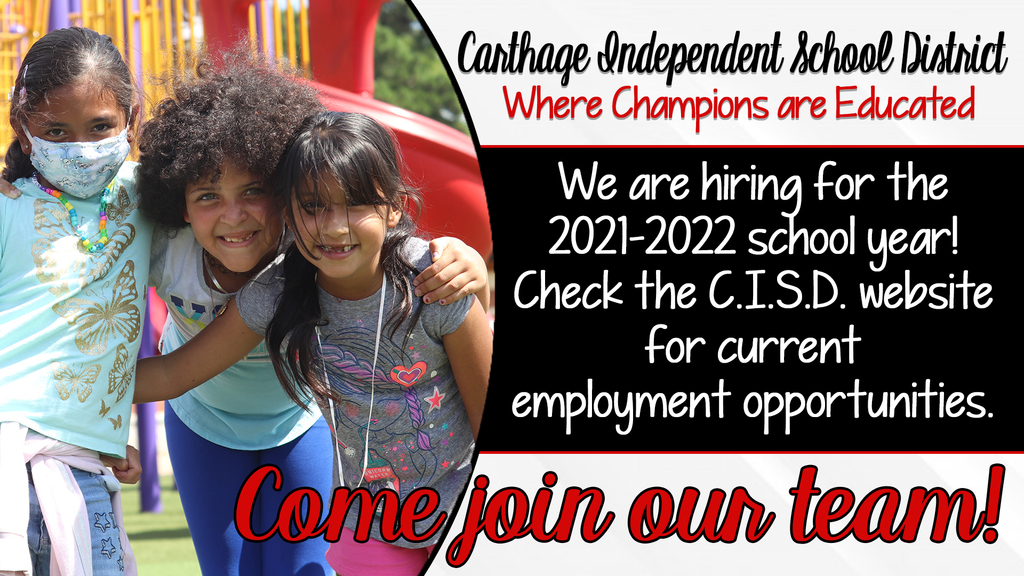 We are INCREDIBLY blessed by the Carthage ISD Education Foundation and our community. Today, over 40 grants were awarded to teachers and principals totaling $162,497.69! Blown away by the impact this will have for our district.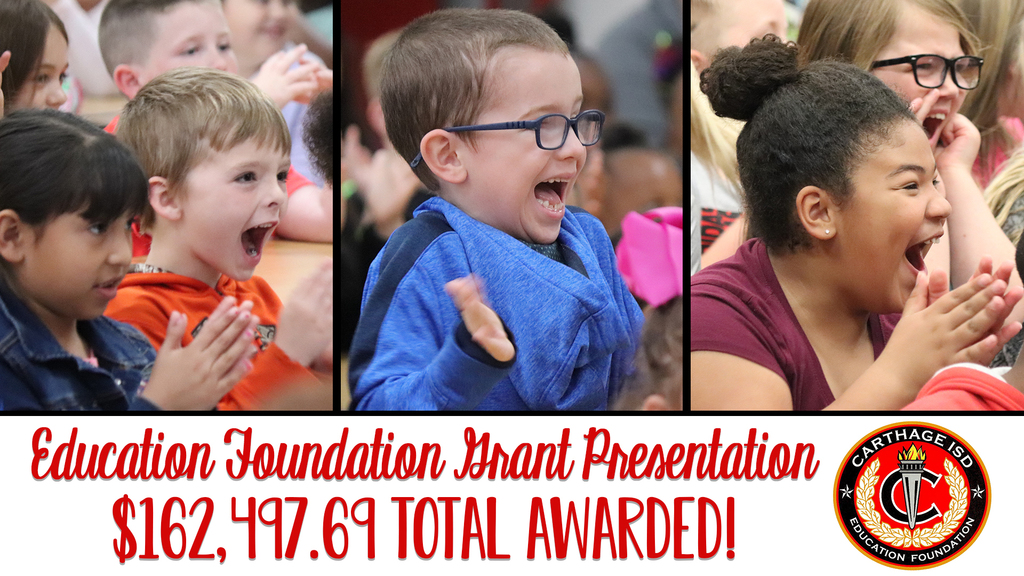 We hope you're having an AWESOME Monday! Don't forget that it's a four day week for students! Teachers have a work day this Friday.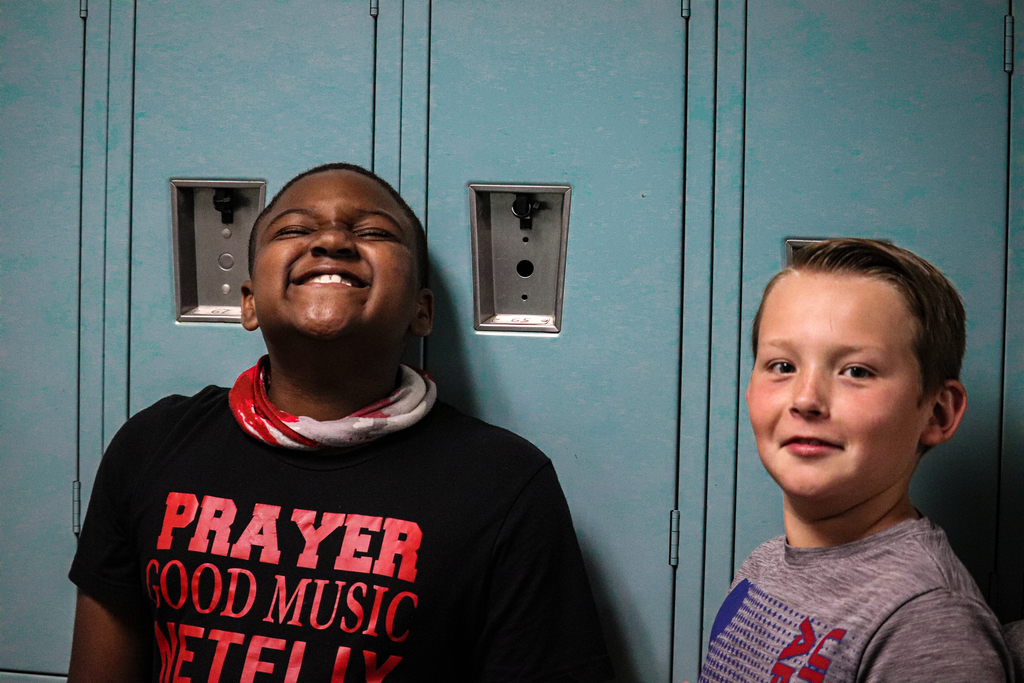 It is National Assistant Principals week and we might be biased, but we've got some pretty great AP's! Thank you all for your tireless efforts to provide the best for our students and staff!

Please be aware, the threat of severe weather may delay the arrival of buses this afternoon.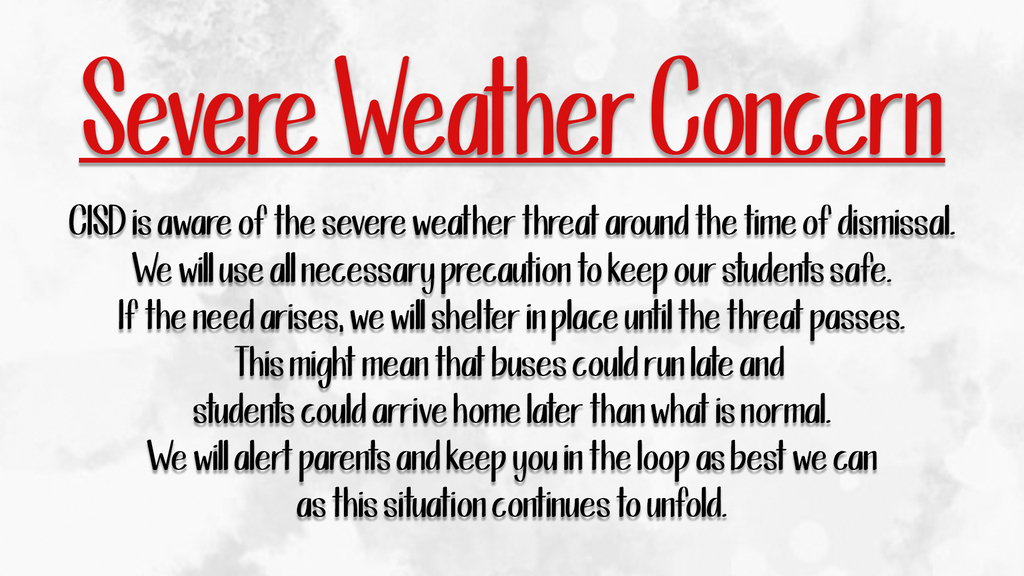 All CISD campuses will have an early release on Thursday, April 1st at 2:00 pm. Additionally, we will not have school on the following day, Good Friday.

Don't forget... today is an early release day! Students will be released at 1:30. Tomorrow is a scheduled teacher work day. We hope you have a safe and relaxing Spring Break!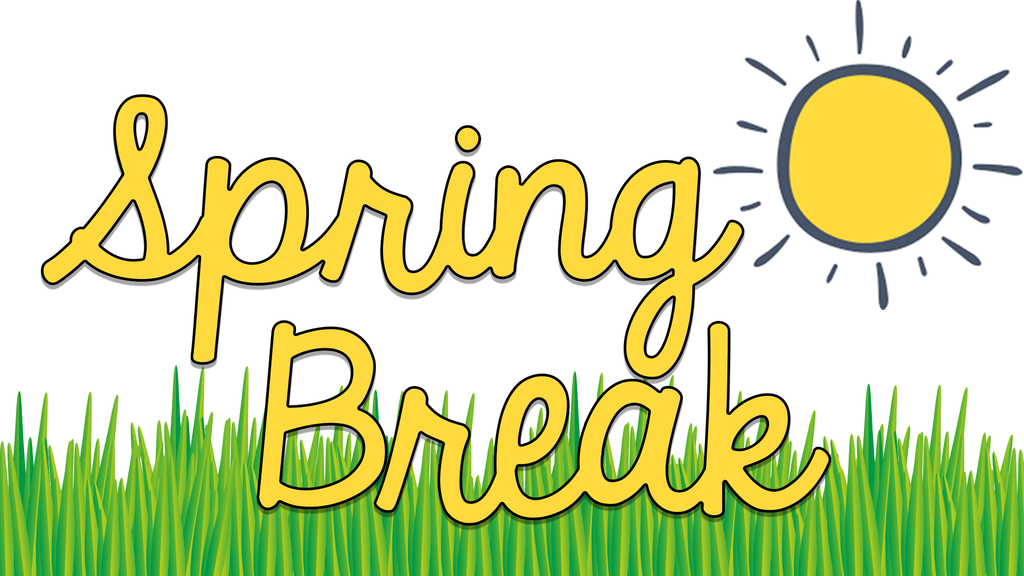 Although temperatures are rising, most roads are clear, and snow is gone, still there are some areas of Panola County where trees overshadow the asphalt roads thereby prolonging icy conditions. This makes travel difficult in those areas. In addition, some families still do not have water. The number of children affected by these conditions could be several hundred. So, with an abundance of caution, we are delaying the start of classes on Monday until 10:00 AM. Buses will be running two hours later than normal. We urge everyone to drive carefully and be especially watchful for buses stopped on the roads picking up children.

It's an exciting day at Carthage High School! We have ten student athletes signing with colleges to further their educations and athletic careers.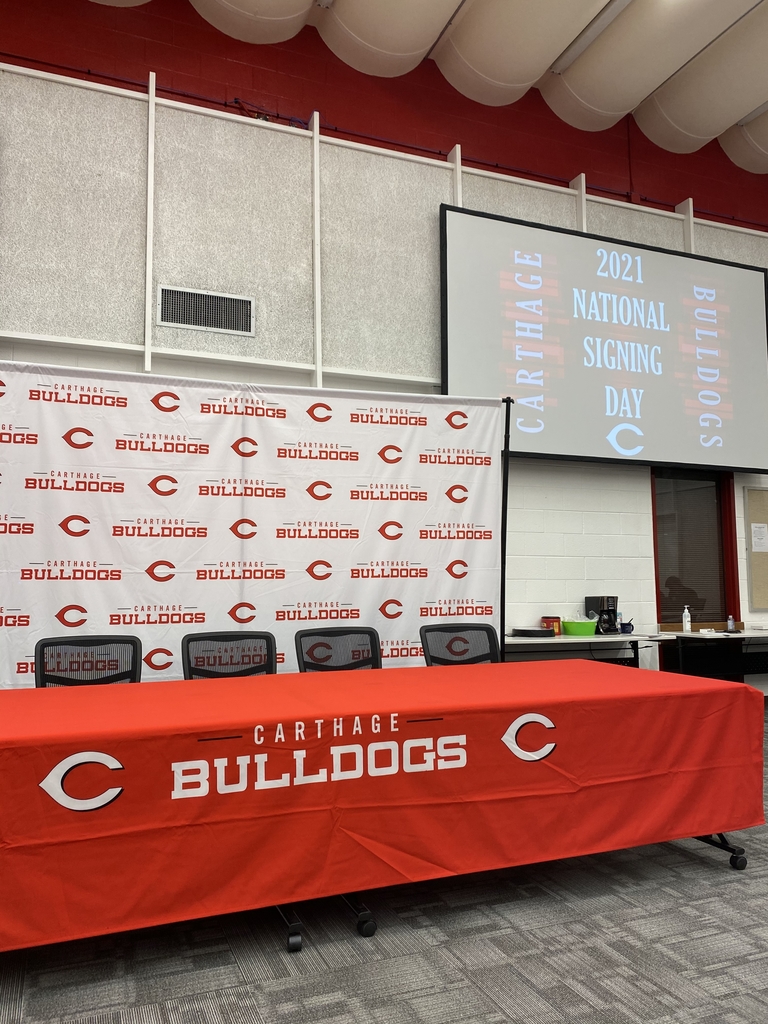 Carthage ISD is starting 2 hours late tomorrow. Buses will also run 2 hours late. Be safe.

Hey Bulldogs! Share your snow pics with us!!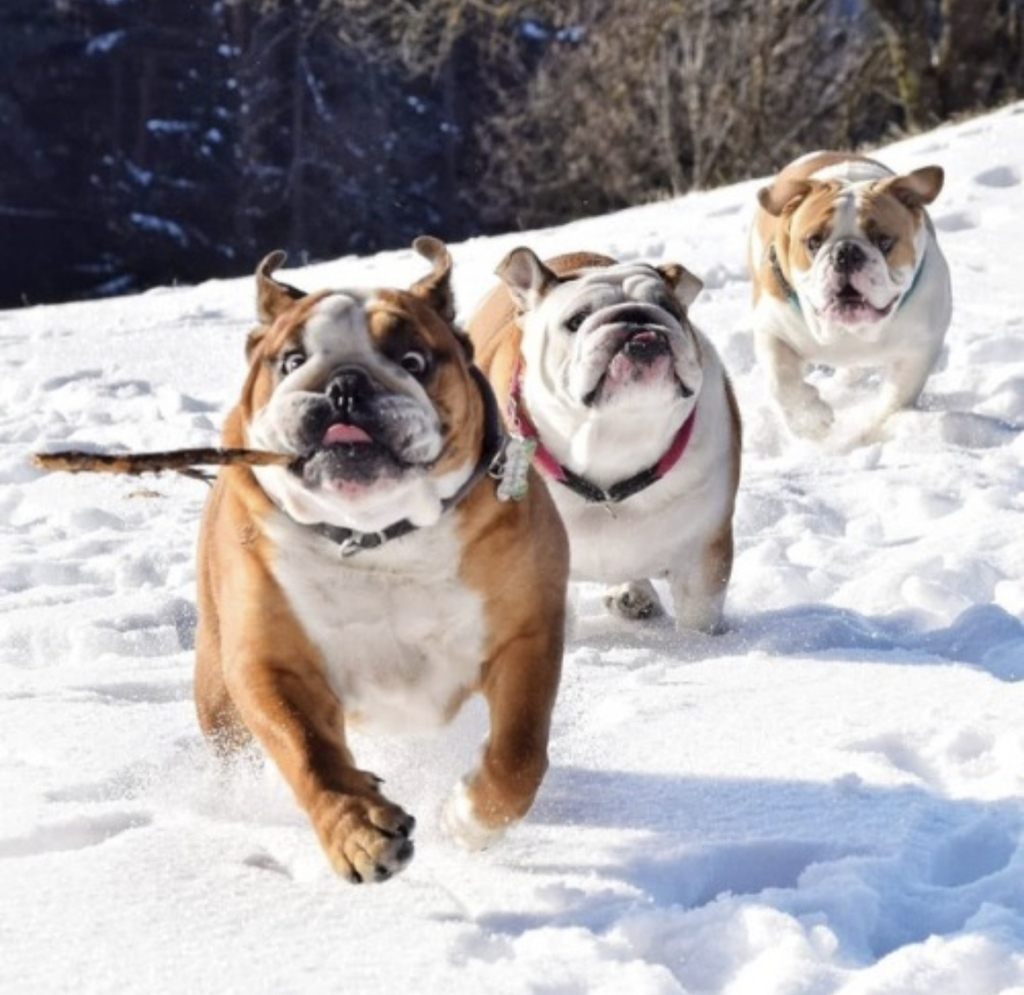 All classes are cancelled for Monday, January 11th! Stay safe and enjoy the time with family.

Carthage ISD will start school 2 hours late tomorrow. Buses will run 2 hours late as well. Stay safe and enjoy the memories!

Congratulations to the VFW District 19 Elementary Teacher of the Year: Jessica Alexander from Carthage Primary!