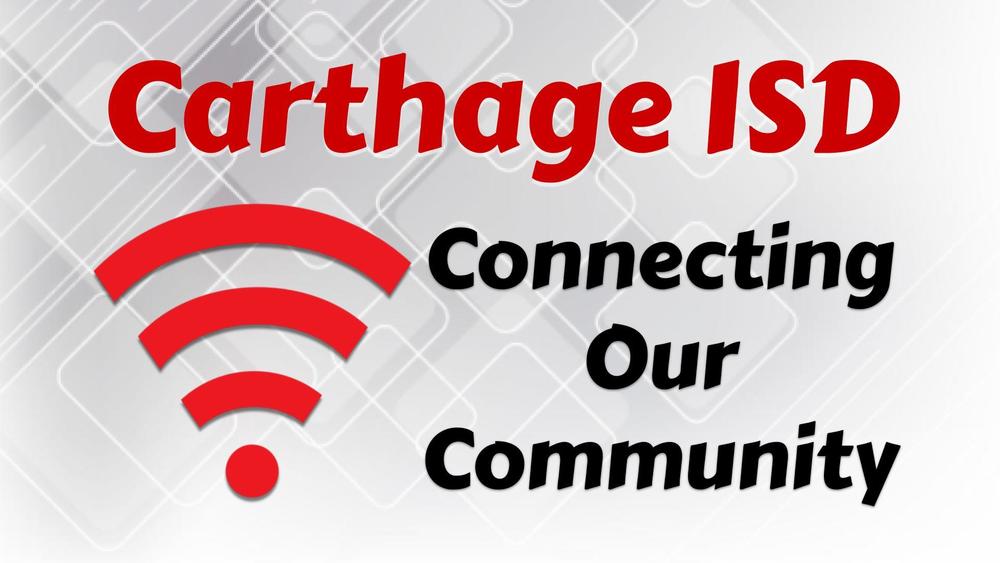 Connecting our Community: CISD Closes the Gap with Internet Service
Patterson, Julie
Monday, August 10, 2020
The Technology Department for Carthage ISD has been working this summer to implement ways in which the district can supply internet service for students who will need connectivity in order to learn from home. The Technology Department identified areas in which internet service was a need and has a plan that will be fully operational on Wednesday for the first day of school.
"The district wants to support those choosing the At Home Learning option by using technology to extend classroom instruction to AHL students," Technology Director Richard Sullivan shared. "We understand there are rural areas in the district without good Internet options so we developed a plan and technology resources to bring internet service closer to where students are located."
During the school shut down this spring, the Carthage community helped to meet the internet needs of many of our students. Knowing that there would be a similar need this year, the Technology Department decided to build on that partnership within the community. The result is that there are now ten locations across the district where the Technology Department has installed Secure Wireless Access Points, or SWAP, for students to use.
"The community has been very receptive to hosting an AHL-SWAP," said Sullivan. "We made phone calls, sent emails back and forth and without exception, every community member we contacted agreed to host an AHL-SWAP at their facility. The community provides a tremendous amount of support to Carthage ISD and is eager to help students whenever possible."
Students who've chosen At Home Learning and need internet access, they can use their school issued Chromebooks at the following locations:
Pinegrove Baptist Church - FM 959

Old Bethel Baptist Church - 4050 SH 315

Logan Mt. Pleasant Missionary Baptist Church - 2997 FM 3359

Hopewell Missionary Baptist Church - FM 1971 and CR 119

Woods United Methodist Church - CR 433

Walnut Springs Baptist Church - FM 1794 AND FM 1186

Turner Alumni - 1023 M L King Blvd

Deadwood United Pentecostal Church - 1322 CR 445
Further, students who've chosen At Home Learning who wish to use their own personal devices may use the wireless internet at Baker Koonce Intermediate, Libby Elementary and Carthage High School.
For the comprehensive list of SWAP locations, please click the link below:
Carthage ISD AHL SWAP Locations
"Our district is incredibly grateful for the community partnership our Technology Department has cultivated to help meet the needs of our At Home Learners," Chief Learning Officer Allen Koch said. "The way our tech guys have risen to the occasion and how our community has been so accommodating has been outstanding."
Students trying to learn at home without internet service has been a growing issue across the nation as school districts faced increasing online learning. An important step in the process of closing the gap and providing the internet service the CISD students will need was addressing areas in which the district ought to focus. This vital information came with hours of research.
"We considered a number of variables when determining the At Home Learning Secure Wireless Access Point locations," Sullivan said. "Some data we researched includes the number of students residing in the area, download speeds provided by cellular providers and the distance the locations are from Carthage ISD."
The SWAP locations in the community will be operational beginning Tuesday evening in anticipation for the first day of school and will continue as long as At Home Learning is offered by CISD and the locations agree to host them at their facilities. The Technology Department will continue working to provide the best options for internet service for the CISD students.