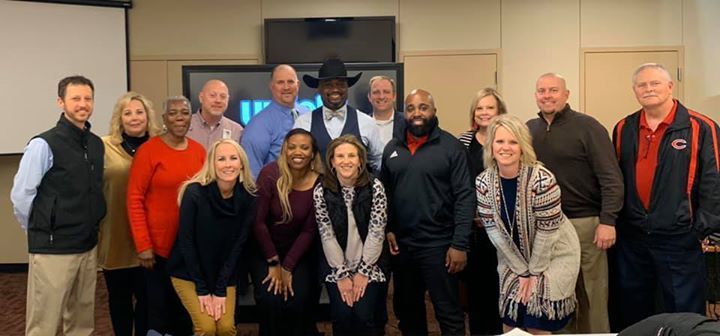 Celebrate Excellence - #my13th
John Wink
Thursday, January 09, 2020
Celebrate Excellence - #my13th
CISD Staff spent January 7 making plans to build strong interventions and extensions in the 2nd semester.
Now that 2020 is here, we have our sights set on one goal, becoming the Premier District in the entire state of Texas. In order to accomplish this goal, our teachers, leaders and support professionals have reaffirmed their commitment to making sure that every child receives a first-class education in every classroom every day.

Here is why this is such an important goal. Your child has a limited amount of time to punch his or her golden ticket to their pathway of success. In fact, they only have 13 years, and each year is critical because this year sets the stage for next year. If you think about it, this school year represents 1/13 of your child's life. Let me explain a little further.

Your child will be in public school for 13 total years. Whatever he or she learns in these 13 years of public school will lay the foundation for success that he or she will experience in life not only as an employee and member of society but also as a mother or a father. Whatever he or she learns or better yet fails to learn today will have a huge impact on how much he or she will be able to learn tomorrow. Every school day matters a lot if you really think about.

To ensure that your child learns each and every day and earns their 1/13th this year, our district teachers, leaders, and support professionals worked to commit to the five plays that research proves will help your child learn the most in this year's 1/13th.

National Speaker, Ken Williams, spent January 6 speaking to our teachers in the morning and administrators in the afternoon, helping us taking our great district to the next level.

CISD's 5 Plays for Success
Mastering the 8 to 12 essential standards in every subject they take,
Ongoing professional learning from every staff member in Carthage ISD,
Ensuring that every student is provided with a high-quality lesson in every classroom and every day,
Our teachers having strong consistency with one another in their high expectations for both learning and behavior,
Building a strong response to every student when he or she fails to learn.
We believe in these five plays and we know that they will make your child successful. To support us in helping your child learn the most he or she can this year, you can help us with these three actions.
3 Ways Parents can Support CISD & Their Child
Please make sure that your child has great attendance each and every day. Research proves that when your child has high attendance, he will perform at a high-level in learning.
Join me in supporting our hard-working teachers and principals by contacting them whenever you are concerned about your child's learning or even frustrated with the education your child is receiving. Your questions and feedback are critical to helping us best meet the needs of your child.
This is the most important thing you can do. Tell your child every day why their education is important. This year represents 1/13 of your child's life, and their education is their ticket to a bright and prosperous future.
In the year that I have been a part of Carthage ISD, I can tell you this is the proudest community in the state of Texas where everyone expects Carthage to be the best. I invite you to be a part of our team and be our partner in ensuring that we guarantee on our promise that your child will become a champion. Happy New Year, and I look forward to 2020 being an amazing year. Thank you.